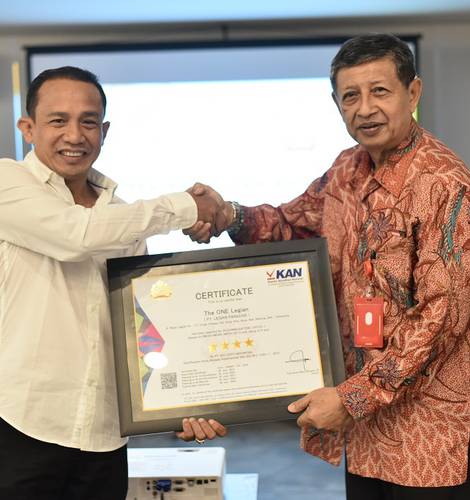 The ONE Legian Officially Receives Renewed Four-Star Hotel Certificate
In 2019, The ONE Legian through the spirit of Stay Surprising Stay Inspiring will never stop providing something new for its customers. After an inspiring birthday celebration in last July, recently The ONE Legian was officially awarded a 4-star Certificate from the Tourism Business Certification Institute.
The ONE Legian has managed to maintain the hotel rating since the first time obtained in 2015. This prestigious accreditation not only contributes to the positive image of The ONE Legian, but is also an assurance for guests who will enjoy a pleasant holiday experience.
The plaque and certificate handover ceremony was officially held last Wednesday, 07 August 2019 by the Lead Auditor of the Villa and Restaurant Hotel, PT QIS Certi Indonesia, Putu Tirta Yasa to Sang Putu Eka Pertama - General Manager The ONE Legian, witnessed by all levels of hotel management.
Through a strong commitment and rigorous assessment, The ONE Legian continues to improve in order to achieve the best score set by the Indonesian Ministry of Tourism; the assessment refers to several aspects including the management, service, and product quality of the hotel itself. The ONE Legian managed to achieve fantastic improvement which means The ONE Legian successfully implemented creations and innovations in the development of its products.
Eka Pertama mentioned that to maintain product quality, their team implements Key Performance Indicators (KPI). He considered this KPI could raise the awareness of hotel employees to continue to innovate and continue to provide positive services.
"Achieving is easy things, maintaining needs strategy, but now the challenge is to upgrade the quality of all aspects. It is important to be able to bring this certificate to the next level as a tool to trigger performance and productivity so that innovation and improvement continues to exist," added Putu Tirta, who greatly appreciated the success of The ONE Legian maintain its four stars.
Eka Pertama added that nowadays travellers increasingly critical and concerned about their safety and comfort while on vacation, such as needing accommodation that well standardized. Through this 4-star certification, The ONE Legian is able to convince guests and travel partners that guests will receive quality in tune to hotel star rating.
The hotel which was established in 2011 has 301 rooms with a minimalist modern design that provides exceptional comfort for guests. Located in a fantastic location in the heart of the Legian area, The ONE Legian is equipped with complete facilities such as swimming pool, restaurant, spa and gym. This 4-star hotel is the perfect choice for travelers looking for a pleasant and unforgettable Bali experience.
Visit the website at www.theonelegian.com or follow Instagram social media at @theonelegian for the latest information on promotions and special offers from The ONE Legian.